For most of us, owning a private jet is something that we can only dream about. But for some, owning an aircraft is a dream come true.  This list takes a look at some of the famous owners of private jets.
Sultan Hassanal Bolkiah, Sultan of Brunei
Hassan al Bolkiah Mu'izzaddin Waddaulah is the reigning Sultan of Brunei and the first Prime Minister of Brunei Darussalam. He is one of the richest people in the world.   So it is no surprise that he has several jets at his disposal, in addition to his more than 600 Rolls-Royce cars, more than 450 Ferraris, and 134 Koenigseggs.
Pictured above is the interior of the Sultan's lavish private jet.
John Travolta, Actor
John Travolta has a great love for aviation. The proof is the 1.4-mile landing strip he had had built outside his home. The Hollywood star owns 5 five aircraft, including an ex-Australian Boeing 707-138 airliner which he personally pilots.
Roman Abramovich, Businessman
If you are a big fan of football (soccer) then you probably know of this guy. Roman Abramovich is a Russian businessman and owner of English Premier League Chelsea Football Club. Abramovich owns a private Boeing 767-33A/ER known as "The Bandit" and also has three Eurocopter helicopters.
Tom Cruise, Actor/Producer
Tom Cruise is a proud owner of at least four aircraft.   Just like his friend John Travolta, Cruise does not only fly planes in movie roles, he has been a licensed pilot since 1994. Rumor has it that Cruise uses one of his jets to pickup groceries.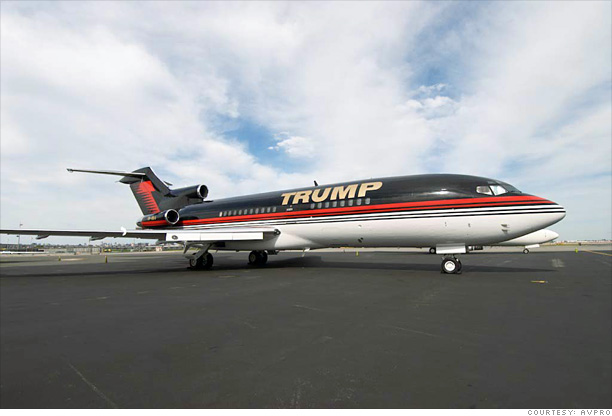 Donald Trump, Businessman
We should expect American business mogul Donald Trump to be on this list. Trump's 1968 Boeing 727 sports a 23-carat-gold logo spelling out his last name. The grandeur doesn't stop there – the aircraft is also built with a luxurious entertainment center, dining room, bath room, and bed room.
Jim Carrey, Actor
Jim Carrey is famous for his comedic roles, but many people don't that Carrey is an owner of a Gulfstream V jet, joining the ranks of Tom Cruise and John Travolta.
Mark Cuban, Businessman
American business magnate and owner of the NBA team Dallas Mavericks, Mark Cuban is in the Guinness Book of Records as having the "largest single e-commerce transaction."  This is after buying his Gulfstream V jet over the web in 1999 for $40 million.
Bill Gates, Businessman
Former Microsoft Chairman Bill Gates constantly appears in Forbes' list of "The World's Richest People" and has taken the number one spot multiple times. Among his possessions is the Bombardier BD-700 Global Express which is capable of flying for a distance of 6,500 nautical miles, non-stop.
Oprah Winfrey, TV Personality
Actress, producer, and America's Queen of Talk, Oprah Winfrey owns a custom-build Global Express XRS jet made by Bombardier Aerospace for $42 million.
DISCLAIMER: Statements and opinions expressed in this article are those of the authors, editors and publishers. While care has been taken in the compilation of this article to present up-to-date and accurate information, we cannot guarantee that inaccuracies will not occur. Keystone Aviation will not be held responsible for any claim, loss, damage or inconvenience caused as a result of any information within this article.